MOLES ON YOUR FEET AND LEGS. THE CONCEPT OF MELANOMAS: YOUR PODIATRIST CAN LOOK OUT FOR YOU!
Another one of the great things that a podiatrist can do is to keep an eye on your feet and ankles for moles, during your foot health check.
Here is an extensive guide to recognizing potentially harmful moles.
Please Note: the following information about moles aims to give you an idea about how a non-harmful mole might look like and main differences, if you are still unsure consult a professional.
In this article we have summed the "ABCDE guide" and a few questions you can refer to, to decide if to have a mole checked or not:
A potentially dangerous mole will look asymmetric.
This means that their edges DO NOT correspond to one another in shape, size, or arrangement (lacking symmetry) as shown in the picture.

The boarders of a non-dangerous mole are usually even, with one side as the mirror image of the other.
Potentially dangerous mole might have ragged, blurred boarders.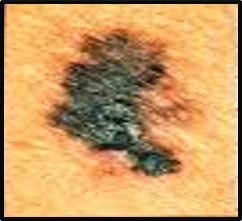 A dangerous mole can have more than one colour, the example reported below are brown and red, some others can have different shades of the same colour (red, brown or black…).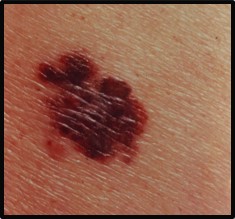 A dangerous mole is usually larger than 6mm, although it is not always the case. Sometimes they are less than a millimeter and carcinogens, other times they can be larger than 6mm but harmless.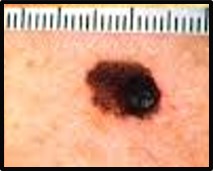 A dangerous mole can grow quickly, it can change size, shape and colour over time.
Sometimes it can get inflamed, ooze and itch, in which case you MUST see a GP.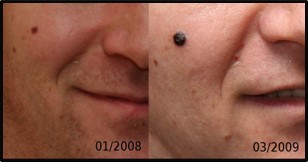 Also, ask yourself the following questions:
Has the mole suddenly appeared?
Has it suddenly changed in size, shape or colour?
Is it itchy, feels more elevated, or oozing?
If your mole has any of the symptoms listed in the ABCDE chart, and the answer is 'yes' to one or more of the above questions, do not hesitate to contact us or your GP.